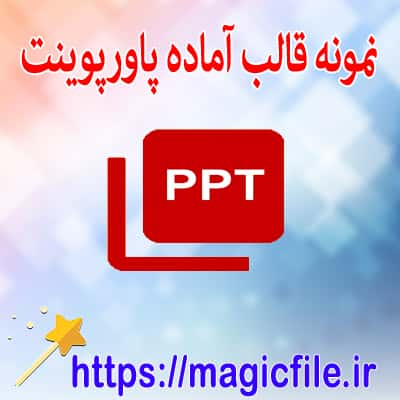 Short description and download linkToday, in this post, we have prepared for you, dear users of the website, a magic file of a sample PowerPoint template on the topic of workplace culture.
Full description of the file
Download a sample PowerPoint template on the topic of workplace culture
Diversity in the workplace means that people of different cultures, genders, religions, ages and beliefs are included to bring multiple perspectives and team dynamics. Promoting diversity and collaboration among colleagues is essential to creating a respectful workplace for all. If you're working on a diversity training program, this PowerPoint template is ideal for you to define what diversity means, showcase your diverse teams, and how to encourage diversity and inclusion in the workplace.
اهمیت اسلاید تنوع در محل کار
Diversity brings new ideas and perspectives that create a work environment where everyone can learn from each other. Additionally, companies with a diverse workforce are better at solving problems and have access to different perspectives of the world, enhancing the customer experience. As you can see, diversity in the workplace goes beyond just working with great talent. It affects business
چالش های تنوع در اسلاید محل کار
When discussing diversity and inclusion in the workplace, it's important to mention the challenges your team may face and how to overcome them together. Some of these diversity challenges can be communication issues, cultural differences and stereotypes. Use this slide to address these situations and share resources to educate your team on these sensible topics.
اسلاید تیم های متنوع
Don't show! What better way to prove that your company encourages diversity and inclusion than by showcasing your diverse team. On this slide, you can share stories from your colleagues and even highlight quotes about their experience at the company.
Sample runtime images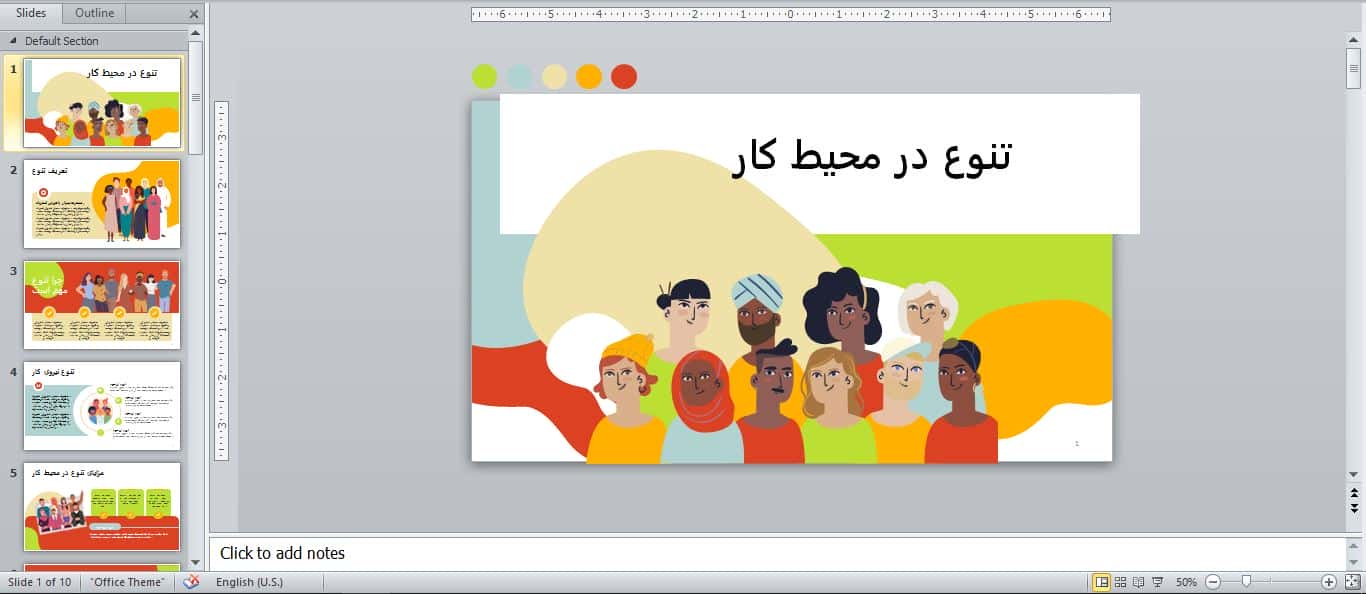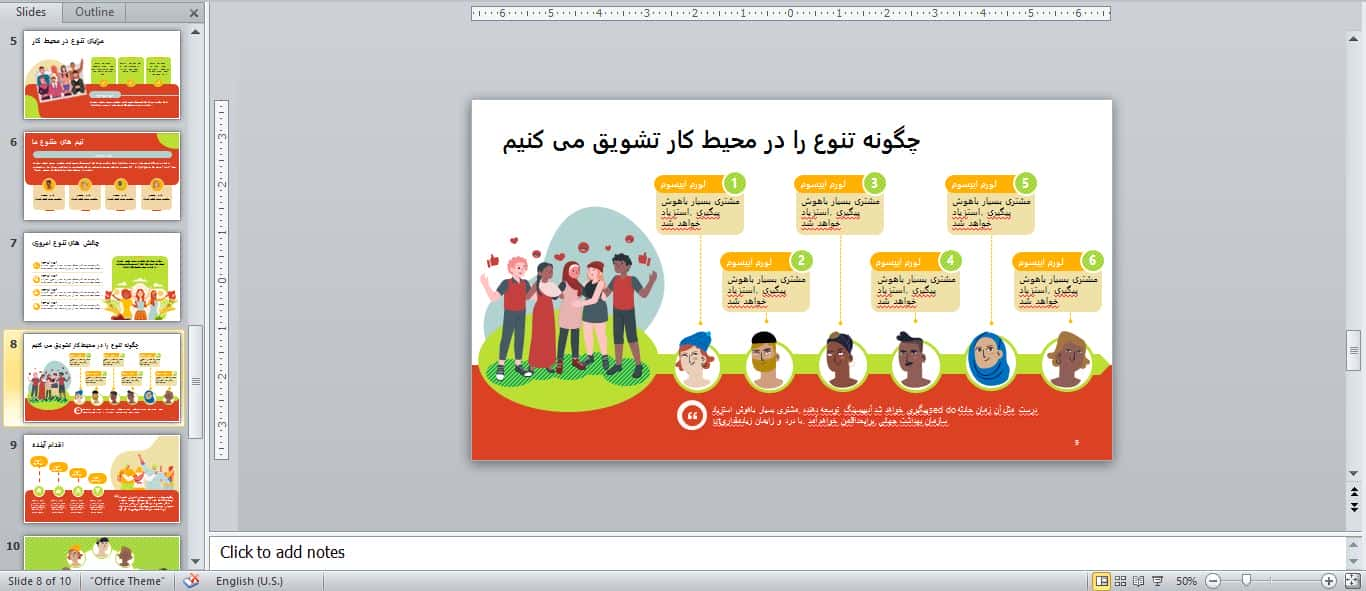 اقدامات آینده

Show people what the company is committed to doing to promote diversity in the workplace. A good way to do this is to close your diversity training presentation with a plan for future actions.

تصاویر تنوع در پاورپوینت

Powerpoint Template Diversity in the Workplace با تصاویری پر جنب و جوش از تیم های مختلف ارائه می شود تا ارائه شما را از نظر بصری جذاب تر و جذاب تر کند.

برنامه های آموزشی تنوع و گفتگوهای شمول

رهبران و مدیران شرکت فراخوانده می شوند تا این گفتگوهای متنوع و شمول را به تیم های خود بدهند تا محیطی عادلانه و امن برای همه ایجاد کنند.
Learn more about ready-made PowerPoint templates
I will provide you with a ready-made template in the PowerPoint theme. This template includes beautiful and adjustable designs that you can change according to your needs and using PowerPoint tools. The PowerPoint theme template is a basic template that is used to create professional and attractive presentations in PowerPoint software. This template includes layouts, fonts, colors and images that are combined together to create an attractive and professional presentation. Please note that in order to use this template, you must first collect your information and then use this template. Ready, design your slides.
Dear users, it is recommended to download.
برای دریافت Download a sample PowerPoint template on the topic of workplace culture بر روی لینک زیر کلیک فرمایید
Files that you may need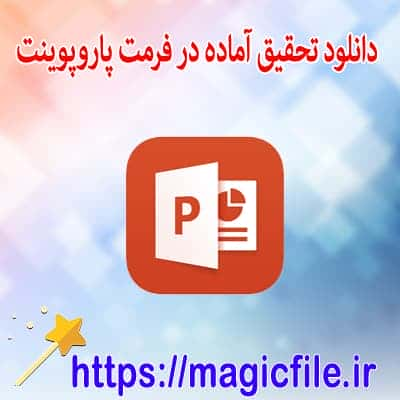 Download ready research about waves in PowerPoint file format
Download
more details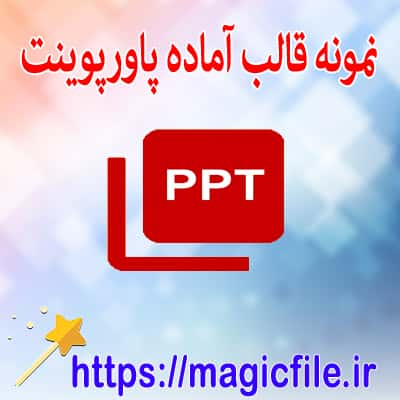 Sample PowerPoint theme template for school assignments using slides
Download
more details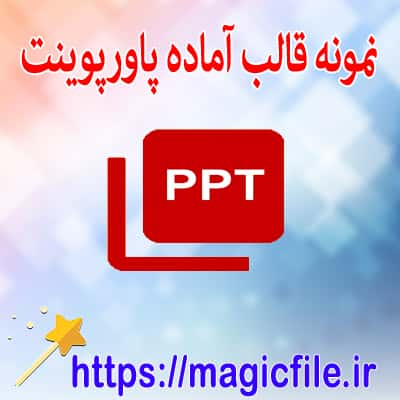 Download a sample PowerPoint theme template on the religious topic of Eid al-Adha
Download
more details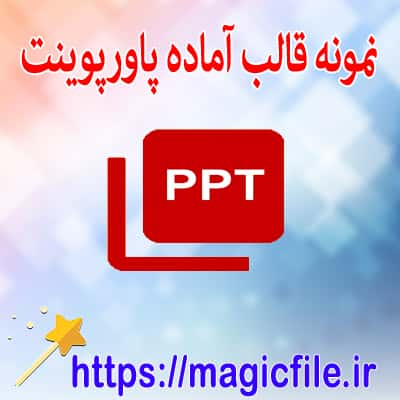 Download a sample PowerPoint theme template ppt on the topic of religious Islam
Download
more details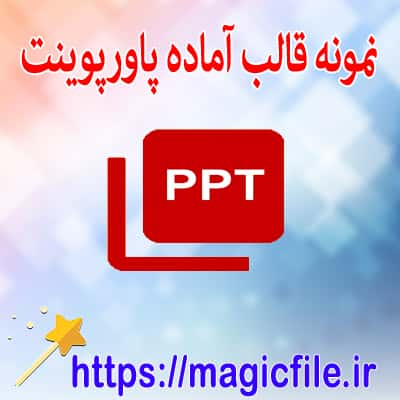 Personal Digital Planner Undated PowerPoint Theme Template Sample with Labels
Download
more details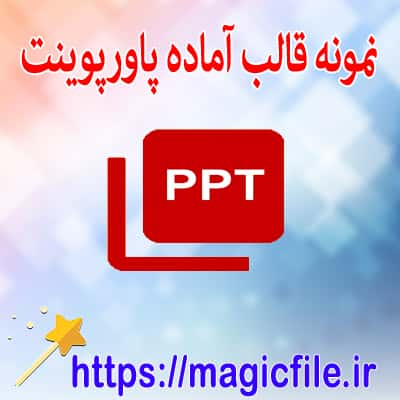 Download a sample PowerPoint theme template in the subject of flash cards
Download
more details