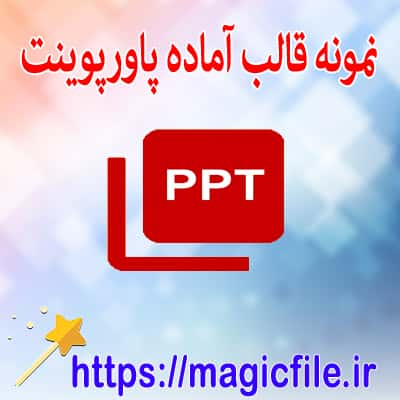 Short description and download link امروز در این پست برای شما کاربران عزیز وبسایت فایل سحرآمیز یک نمونه قالب تم پاورپوینت در موضوع پذیرش شرکتی را آماده دانلود قرار داده ایم.
Full description of the file
دانلود نمونه قالب تم پاورپوینت در موضوع پذیرش شرکتی (استخدامی)
امروز در این پست برای شما کاربران عزیز وبسایت فایل سحرآمیز یک نمونه قالب تم پاورپوینت در موضوع پذیرش شرکتی را آماده دانلود قرار داده ایم.
Employee onboarding is the process of introducing newly hired employees to the company. The onboarding process is key for new members to understand the team culture, business operations, their responsibilities within the company and resolve any questions about their role. Use the Employee Onboarding PowerPoint template to share key company information with new employees. You can showcase your company's mission, values, team organization, company timeline, employee schedules, and more.
Your in-person presentation should give new employees an overview of the company and its culture. A good way to start is to share the company's mission and values. This slide comes with a four-step pie chart that includes the organization's guiding principles. You can also add a short description and modern icons for each.
Sample runtime images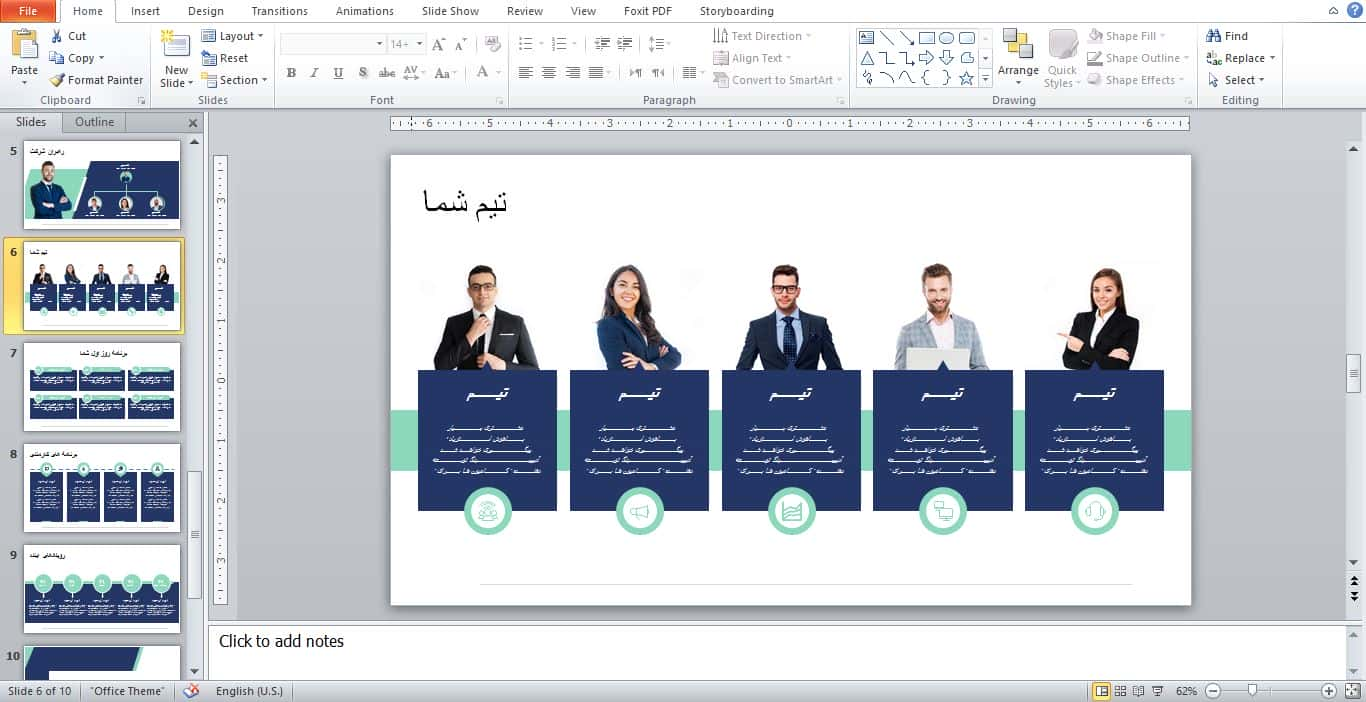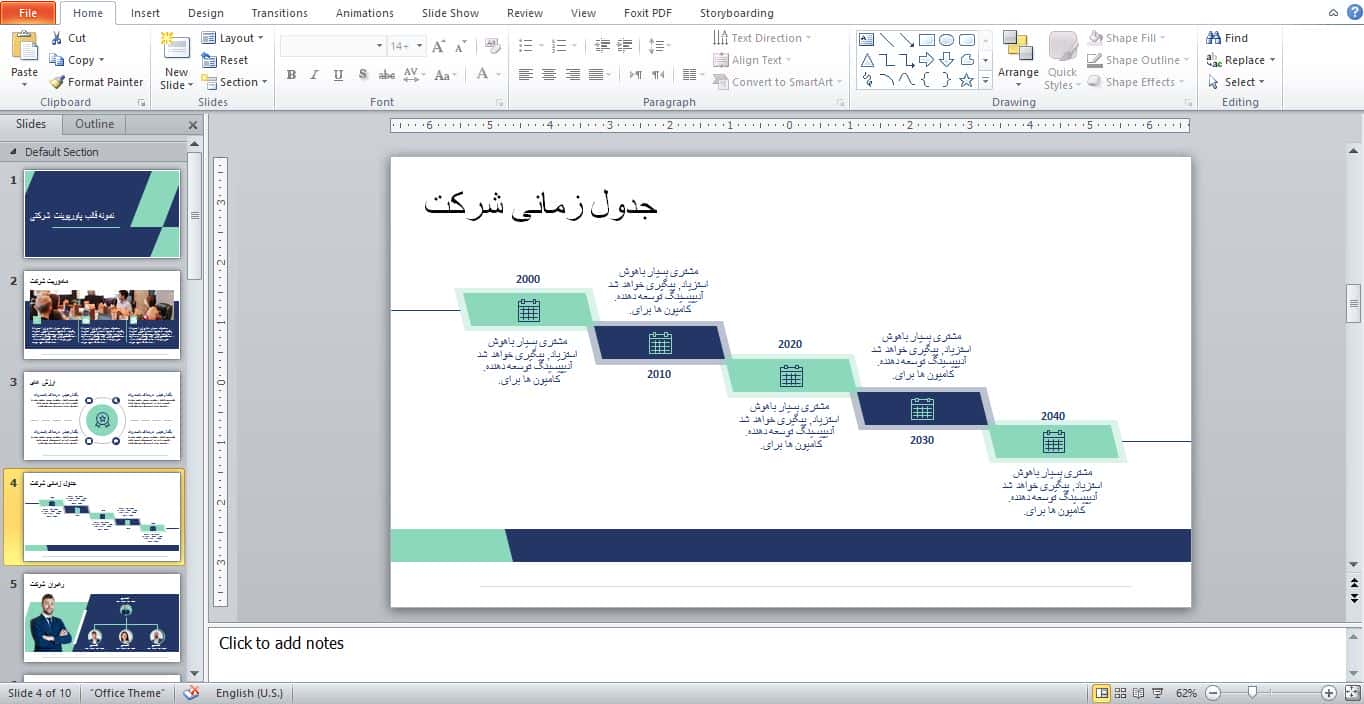 اسلاید رهبران تیم برای ارائه حضوری کارکنان
Company PowerPoint slide to introduce company leaders. This section has an organizational chart where you can add a professional photo of the CEO and department managers. Any face-to-face presentation should include company leaders so that new employees can get to know who runs each department and who to talk to if problems arise.
جدول زمانی شرکت برای فرآیند جهت گیری PPT
Another important aspect to consider in your pitch is the company's history. You can use storytelling to share with new hires how the company came about and its milestones over the years. This is an incredible opportunity to inspire and excite them to join the company.
برنامه هفته اول کارمند جدید

شما یک اسلاید برنامه پاورپوینت برای نمایش فعالیت های ورود و معرفی کارمند در هفته اول پیدا خواهید کرد. از دوشنبه تا جمعه می رود.

جهت گیری کارکنان و PPT حضوری

الگوی Onboarding PPT دارای یک طرح رنگ آبی متین، یک سبک طراحی زیبا و نمادهای تجاری است که ظاهر و احساس شرکتی را برای کل عرشه ایجاد می کند.

اسلایدهای پاورپوینت Onboarding خود را مارک کنید

کارمندان خود را با عکس‌های تیم، لوگوی شرکت و رنگ‌های برند سفارشی کنید.
Learn more about ready-made PowerPoint templates
I will provide you with a ready-made template in the PowerPoint theme. This template includes beautiful and adjustable designs that you can change according to your needs and using PowerPoint tools. The PowerPoint theme template is a basic template that is used to create professional and attractive presentations in PowerPoint software. This template includes layouts, fonts, colors and images that are combined together to create an attractive and professional presentation. Please note that in order to use this template, you must first collect your information and then use this template. Ready, design your slides.
Dear users, it is recommended to download.
برای دریافت دانلود نمونه قالب تم پاورپوینت در موضوع پذیرش شرکتی بر روی لینک زیر کلیک فرمایید
Files that you may need
Download the full pack of PowerPoint files about nursing principles and techniques
Download
more details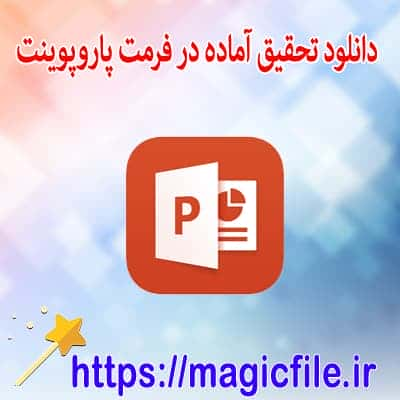 Ready research on blood group determination in editable PowerPoint file format
Download
more details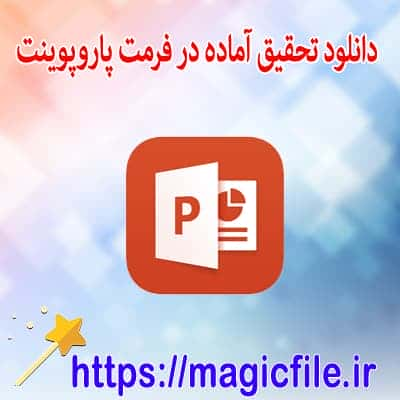 Analytical chemistry research in editable PowerPoint file
Download
more details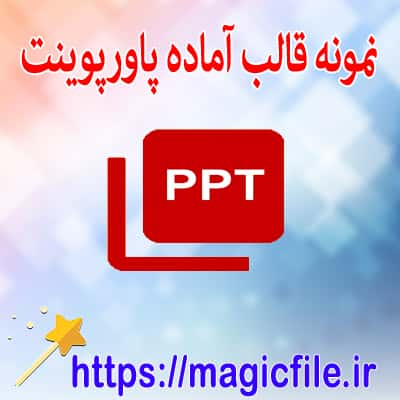 PowerPoint theme template on the topic of interesting selection board template TV and remote control
Download
more details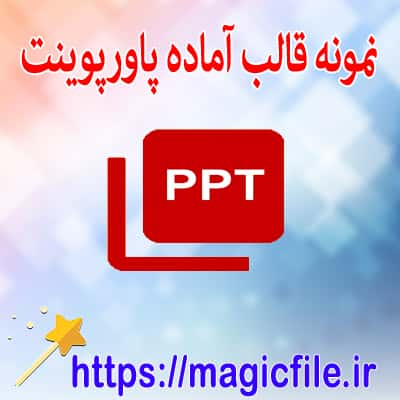 Download a sample PowerPoint theme template in academic and academic subjects
Download
more details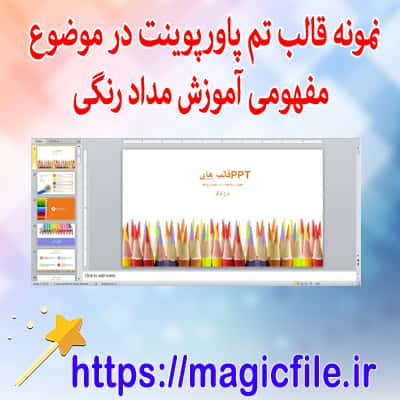 An example of a PowerPoint theme template in the conceptual topic of colored pencil education
Download
more details