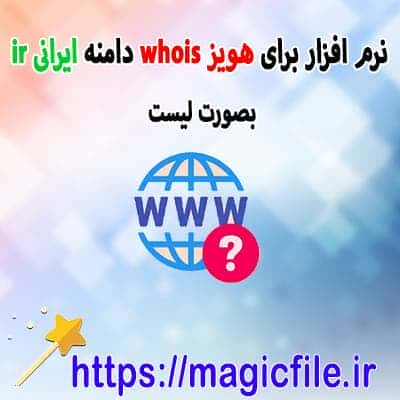 Short description and download linkHoveys software (whois) Iranian domains (ir) listed as output with Excel file for you dear users of the MagicFile website ready to download
Full description of the file
Download Hoveys software (whois query) Iranian (ir) domains listed as output with Excel file
Whois software (whois)Iranian domains (ir)Listed with outputExcel fileWe have put the MagicFile ready for download for you dear users of the website.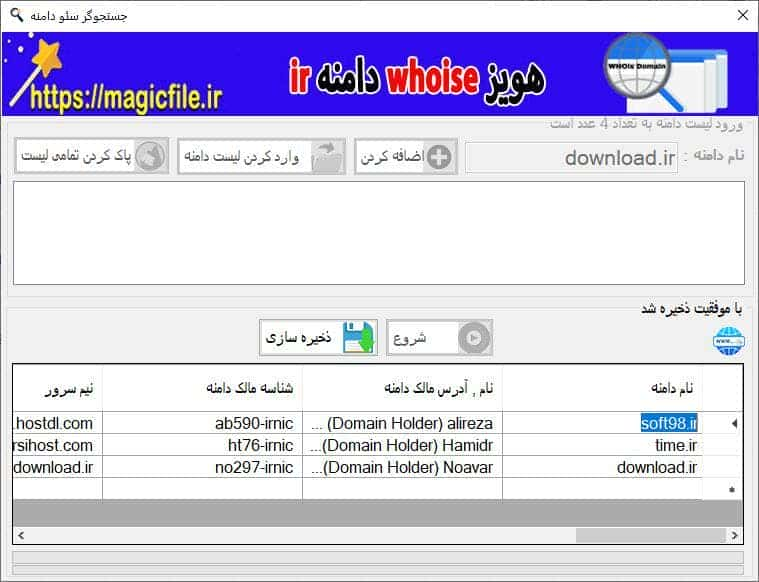 Learn more about Hoys:
Hoys is the information that a person enters when registering their domain. Information such as place of work, name, surname, contact number and other details
All companies (ICANN) that are major corporate registrars of domain names are onedirectoryMaintain and update the information of those who own the domain. Thiswhois databaseIncludedName, address, email address and phoneOwners of domains. This database is accessible to anyone connected to the Internet. This allows domain owners to prove their ownership with a definite document, and people can contact them to repurchase and register the domain based on this person's information. .
When you enter the domain tab of a domain, you see the following information in order that we have collected the most important ones for you:
email: The domain owner's email
registrant org: The name of the domain owner
registrar: The name of the domain registration center, most domains are registered in the Real time register center.
registrar status: The status of the domain lock is active if it is set to clientTransferProhibited, and the domain lock is open if you watch ok.
Created date: Domain registration date
Expired on: Domain expiration date
updated on: Date of last update
Name Server (s): DNS connected to the domain
IP Address: The IP address of its hosting server
IP Location: The geographical location of the desired domain web hosting service
Server Type: Display the web server of your desired domain
Registrant Name: The name of the domain licensee
Registrant Street: Details of the franchisee address including the street
Registrant City: The name of the licensed city
Registrant State / Province: Details of the franchisee
Registrant Postal Code
Registrant Country: The country that owns the domain
Registrant Phone: The franchise management phone
Registrant Fax: The franchisee management fax
Registry Admin ID: Domain Manager Profile
Admin Email: The domain administrator email
last-updated: The latest update
expire-date: expiration date
address: The full address of the domain owner and their relationships
phone: telephone number
This important information that we brought to you above is called Hoys.
Features and applications of this software
All national domains ir
Get complete information about domain specifications such as (name and address - name and address of the company that registered the domain - domain servers) that exist in Wiz (some of the specifications may be closed by the domain registrant or the provider) In this case, some specifications may not be received)
High speed and performance in execution
With the ability to add manually and as a list of text files
With the ability to save the output as an Excel file
And other facilities
Screenshot at runtime and output as an Excel file
Dear user, you are offered a download.
Click on the link below to download Hoys software (whois query) Iranian domains (ir)
Files that you may need
Download software to change the text inside the html file tags or change the language
Download
more details
Software to list file name and directory with output as text file and CSV
Download
more details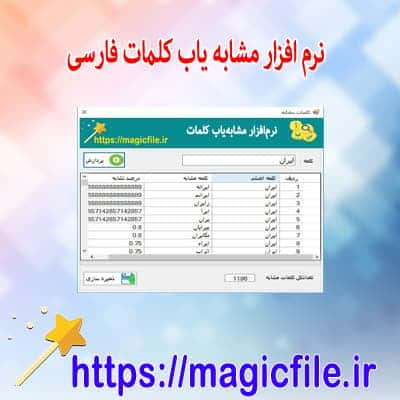 Download Persian word matching software
Download
more details
Download search software and replace text in multiple files
Download
more details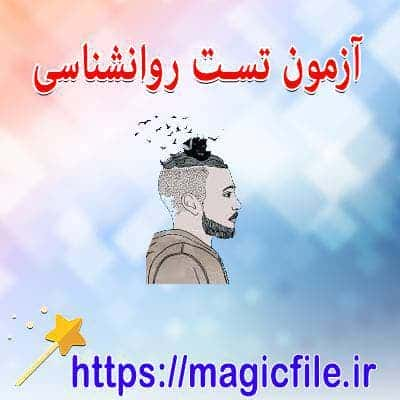 Download Golden MBTI and PMAI Personality Test
Download
more details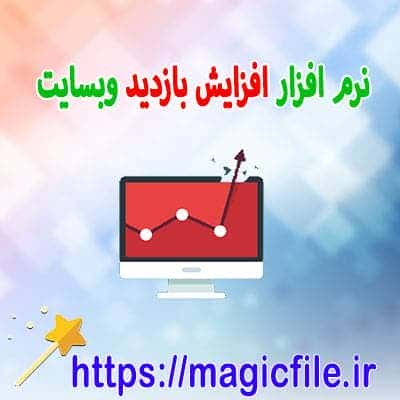 Download software to increase site traffic
Download
more details