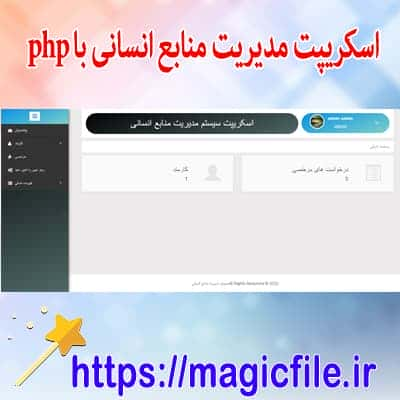 توضیحات کوتاه و لینک Download Today, in this post, we have prepared for you, dear website users, the magic file of a human resources management system project in PHP and MySQL source code.
Full description of the file
پروژهHuman resource management system در کد منبع PHP و MySQL
این One Human resource management system ساده است . این One برنامه وب است که در PHPAndMySQL databaseit is developed. It aims to provide an automated online platform for certain company employees to manage or submit leave requests. It has a pleasant user interface with some gradient colors and fromBootstrapAndResponsee FrameworkUsed for page design. It consists of user-friendly features and capabilities
The Human Resource Management System project has been developed using the following technologies
HTML
CSS
JS
PHP
MySQL database
XAMPP
ویرایشگر کد VS
چارچوب بوت استرپ
چارچوب پاسخگو
ویژگی ها و عملکردها
این پروژه از ویژگی ها و قابلیت های زیر تشکیل شده است.
سمت Management
Arrivals and Departures
Dashboard screen
Management کارکنان
Management برنامه ها را ترک کنید
Update password
سمت کارمند
ورود و خروج
Dashboard screen
ایجاد برنامه ترک جدید
لیست و Management برنامه های ترک
Update password
Human resource management system چگونه کار می کند؟
thisپروژهHuman resource management system دارای 2 ماژول است که عبارتند از پنل ManagementAndسمت کارمند .. These 2 sides of the site have different features and functions according to their user role.
پنل ManagementIt is a part of the system that only system administrators can access. This is where the human resources or staffing department manages the company's employee list. System administrators are the ones who can accept or reject employee leave requests. Here, admins can list, add, edit, and delete data in the main list of locations, countries, states, and cities.
Employee-SideA side of the system that only employees can access. This position allows employees to create new leave schedules. After creating a leave request, their pending, accepted and rejected requests are listed on the leave request page. On the dashboard page, a logged in employee can see their vacation request summary, which is just the total number of pending and accepted requests.
requirements
everyوب سرور محلی را DownloadAndinstalllike theXAMPP
zip file کد منبع providedDownloaddo. ( The download button is below )
System installation
XAMPP control panelyourselfopenDo andApache را راه اندازی کنید MySQLLaunch the
کد منبع Download شدهparticle for direct objectاستخراج کنیدfilecompressed.
Extracted source code folderکپی کرده و placeAnd it's inEnter XAMPP's "htdocs" directory .
PHPMyAdmin را در One reviewگر reviewdo . that's mean http://localhost/phpmyadmin
OneBaseNew datain the name ofCreate hrm_dbdo.
fileSQL providedenter.This file namedhrm_db.sqlIt is known that inside the folderdb is located.
Human resource management systeminreviewگر reviewdo . that's meanhttp://localhost/hrm/ .
Default admin access:
user name :admin@gmail.com
password:admin#123
To get the human resources management system project in PHP and MySQL source code, click on the link below
Files that you may need
PHP / OOP message system script
Download
more details
Download sample food website template in Html language, JavaScript with source code
Download
more details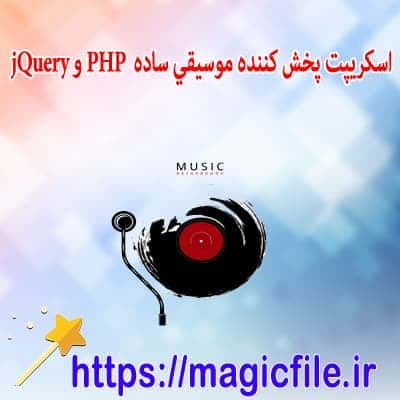 Simple music player script in PHP and jQuery source code
Download
more details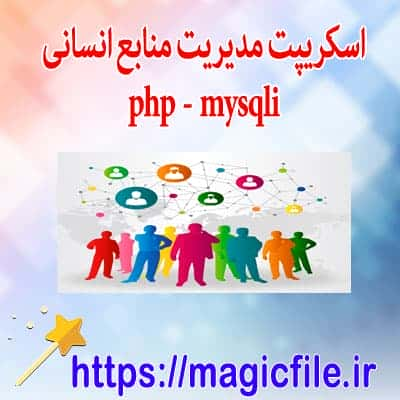 Download the client management system script in PHP/OOP source code
Download
more details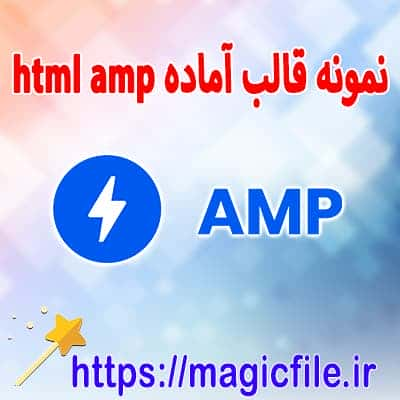 Download sample mobile template template as AMP
Download
more details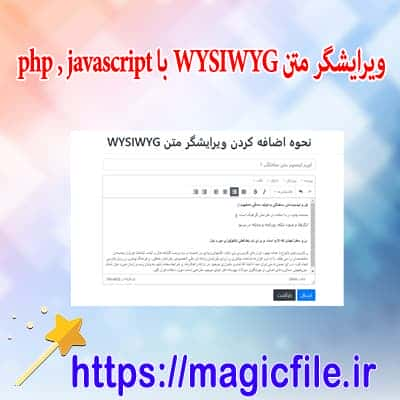 How to add WYSIWYG text editor with php and javascript
Download
more details