Short description and download linkToday, in this post, for you, dear users of the website, we have prepared a magic file for a pharmacy management system script with PHP for download.
Full description of the file
Pharmacy management system script with PHP
Multilingual Pharmacy Management System (MPMS) has been developed in PHP and MySQL. This is a new method of pharmacy management. Designed to support pharmacies, products, categories and orders in different languages. Pharmacists around the world can use it. Pharmacy management systems are designed to improve the overall flow of information in the pharmaceutical business. They can help simplify operations and reduce costs by automating processes such as order processing, invoicing and payment. The main purpose of this software is to provide a set of interfaces between the pharmacy and the customer who is the main user of this software. This software helps to create a comprehensive database for pharmacy business and provides various reports based on various parameters such as expiration, product, etc.
As we know, pharmacy is a very dynamic field. With the introduction of new drugs, new technologies and increasing the number of patients, pharmacy becomes one of the most important aspects of medicine. With this in mind, it is important for pharmacists to be able to manage and keep their patients healthy. To meet the demands of such a dynamic field, pharmacists must have a comprehensive knowledge of basic and clinical sciences and be able to apply it in their daily work. This pharmacy management system is a database management system. Provides the ability to store and retrieve information about drugs, categories, reports, and more. In this project, we will focus on the MySQL version of the Pharmacy Management System.
Sample images at script time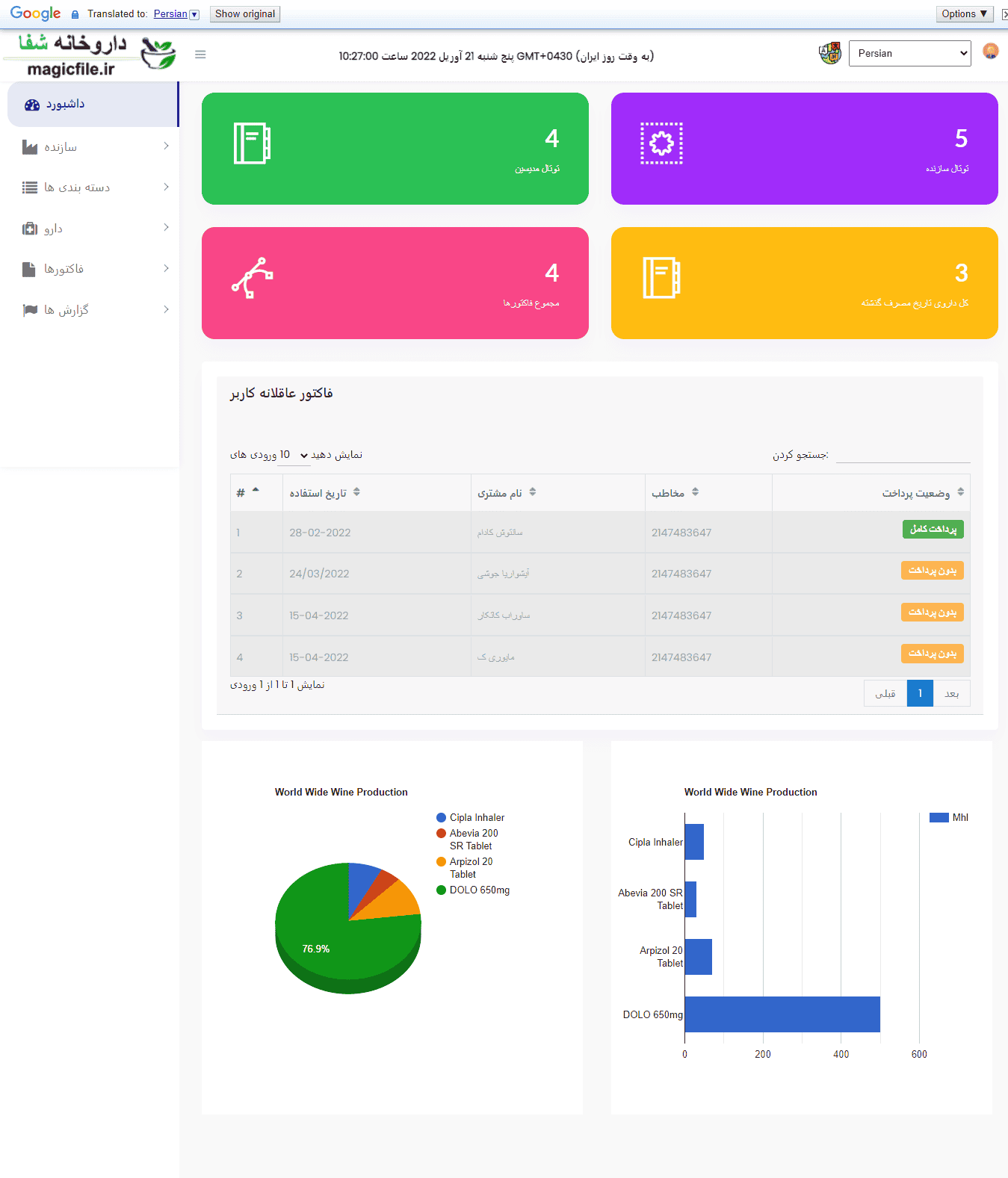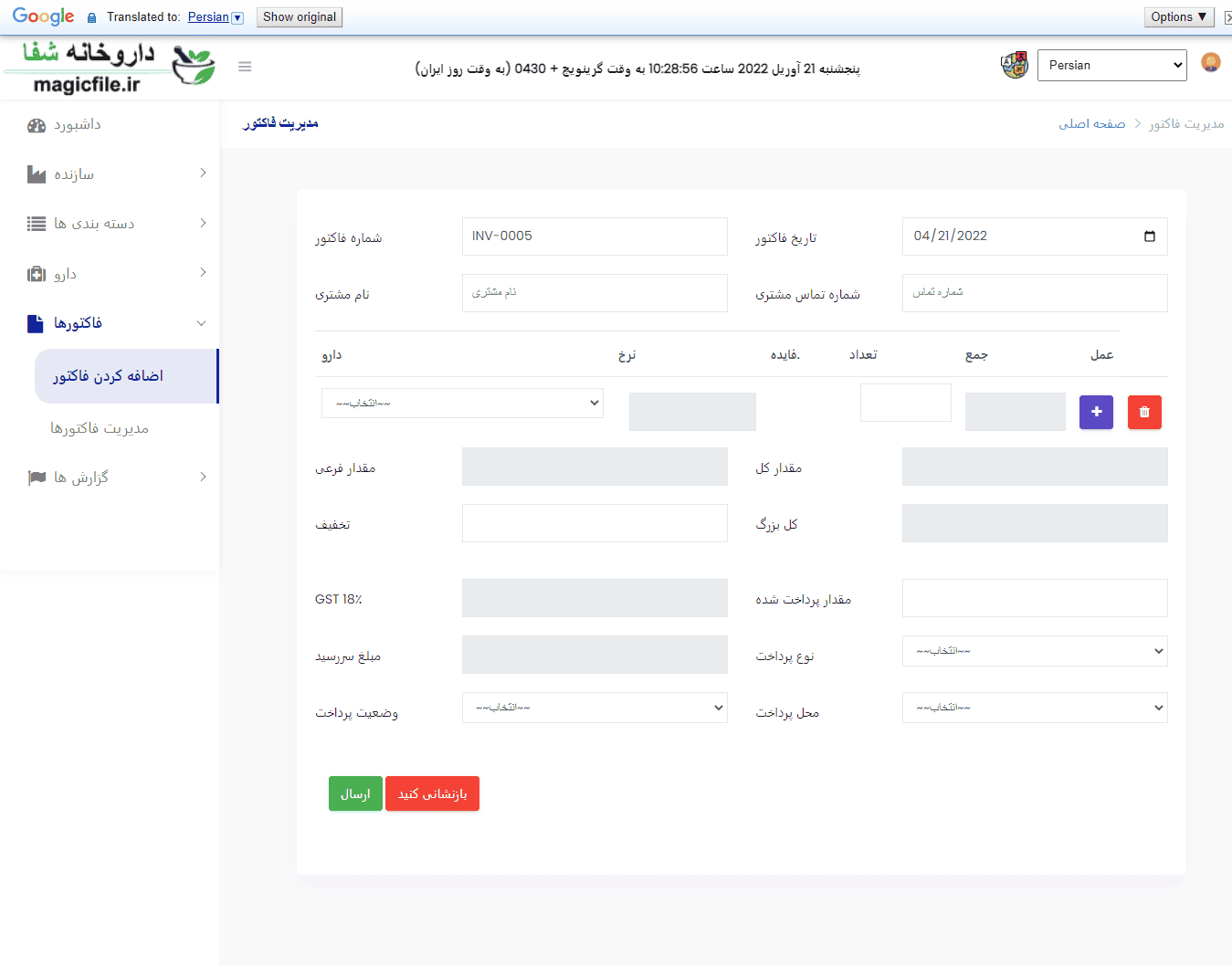 How to implement the pharmacy management system and requirements along with system installation
Download and install any local web server such as XAMPP.
Download the source code zip file provided. (Download button is below)
Open your XAMPP control panel and launch Apache and MySQL.
Extract the downloaded source code zip file.
Copy the extracted source code folder and put it in the XAMPP "htdocs" directory.
Extract the downloaded assets zip file.
Copy the extracted assets folder and paste it into the main source code path.
Browse PHPMyAdmin in a browser. I mean http: // localhost / phpmyadmin
Create a new database called mayurik_pharmacy.
Import the provided SQL file. This file is known as database.sql, which is located inside the database folder.
Password :
Username: info@magicfile.ir
Password: admin
The PHP Medical Store Management System project is designed to provide basic knowledge of the PHP programming language and MySQL database. In addition, the system provides a great opportunity for programmers to learn popular language and database management systems for study purposes only. This project is a great introduction to PHP programming language and MySQL database. Management system. You will gain hands-on experience by implementing the basic features of PHP's programming language and database management system in PHP, which means opening files, reading and writing data, and replicating through files and forums. Conclusion PHP today seems to be one of the most widely used languages ​​in the world. The development of PHP has led to tremendous growth in market size. PHP is widely used in web design, desktop and mobile development. PHP can be described as a high-level language that aims to create powerful simplicity, where it clearly defines its syntax and makes it easy enough for beginners to learn.
Dear users of the MagicFile website, a download offer is offered
Click on the link below to get the script of the pharmacy management system with PHP
Files that you may need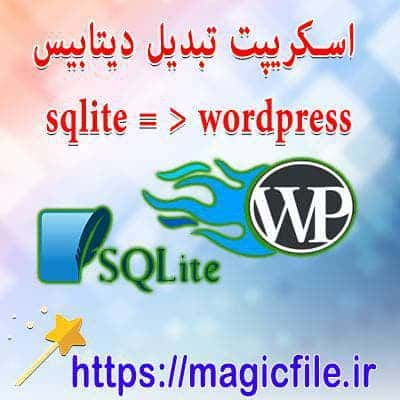 Download sqlite database converter script in db file format to mysql content system database as mysql
Download
more details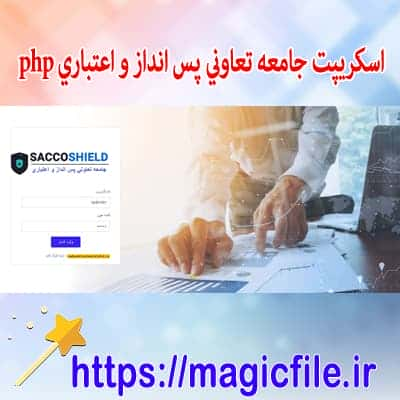 SACCO Management System Script (Savings and Credit Cooperative Society)
Download
more details
Sample ready-made store template script using jQuery, Bootstrap and JSON as PWA
Download
more details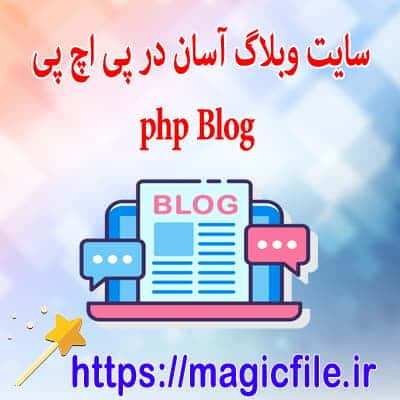 Download the easy blog site script in PHP php Blog
Download
more details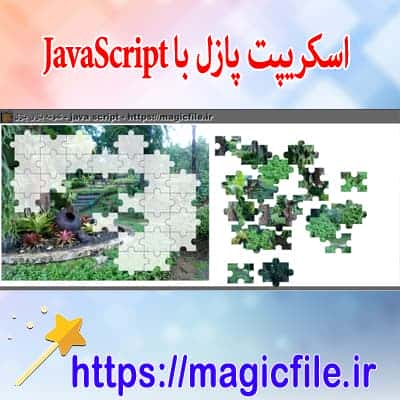 Download JavaScript Puzzle Game Script
Download
more details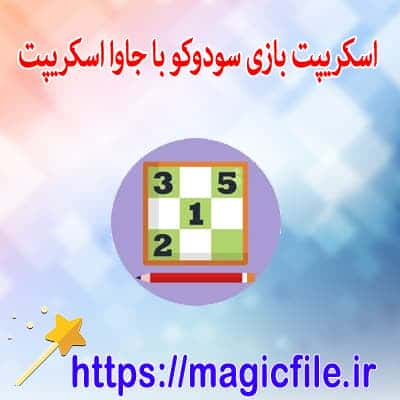 Download Sudoku game script in JavaScript with source code
Download
more details