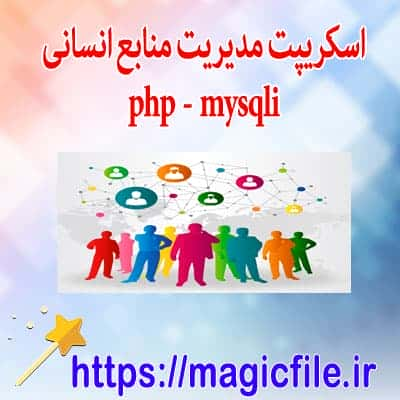 توضیحات کوتاه و لینک Download Today, in this post, we have prepared for you, dear website users, a magic file of a human resource management system script in PHP/OOP source code ready for download.
Full description of the file
Download script سیستم مدیریت مشتریان در کد منبع PHP/OOP lms
This is a simple PHP called Leads Management System. It is a web-based application that helps businesses manage their leads for their sales. It is developed using PHP/OOP as backend and MySQL database. This application has a simple and pleasant user interface using Bootstrap Framework and AdminLTE. It is easy to use and has user-friendly features and functions.
This lead management system collects information about potential customers and employees can add information about the prospect and take actions. With this simple system, business management can easily retrieve their prospect records for qualified sales leads.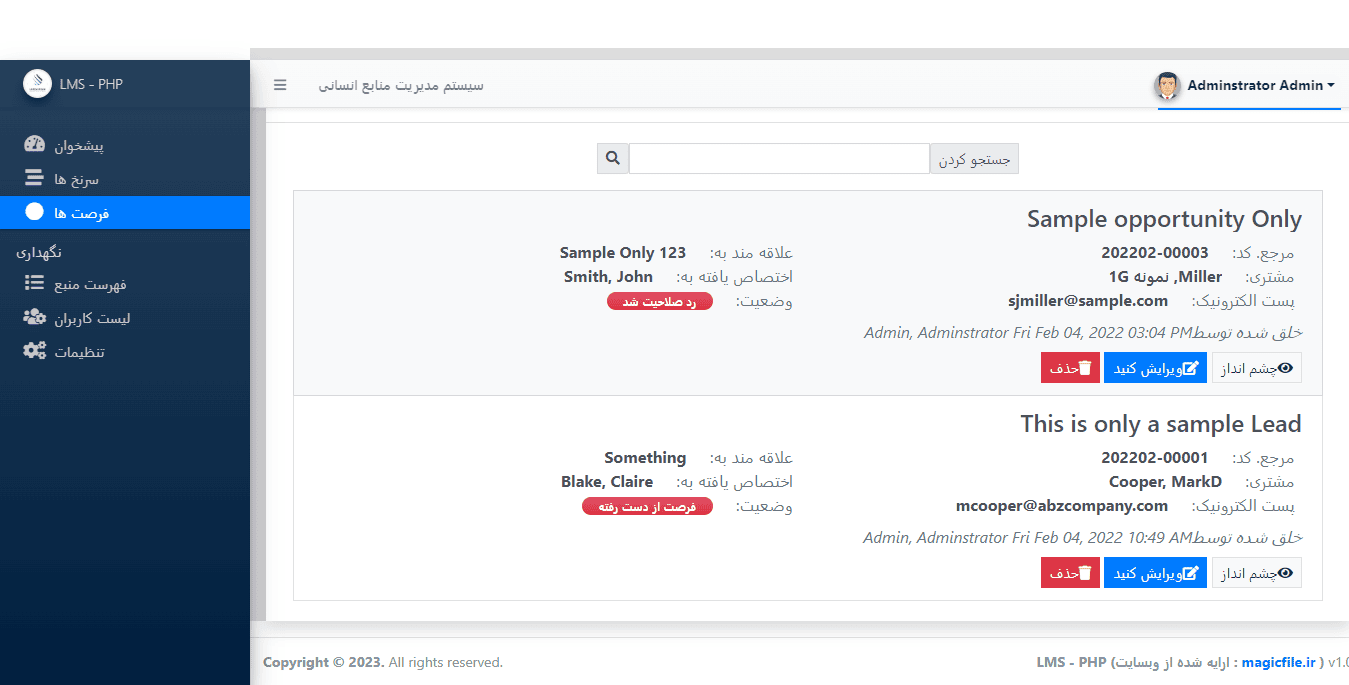 درباره سیستم مدیریت سرنخ ها
I developed this project using the following:
XAMPP v3.3.0 به عنوان Local web server من که دارای PHP نسخه 8.0.7 است
PHP language
MySQL database
HTML
CSS
Java Script
JQuery
Ajax
Bootstrap
AdminLTE
and more...
The Leads management system project is accessible to 2 types of system users, which are managers and employees. Administrator users have the privilege to access and manage all system features and capabilities. They are also the ones who can generate new leads and opportunities. Admin users assign leads and opportunities to an agent or employee who contacts the prospect and continues the process. Staff users only have limited access. They can only manage the leads and opportunities that are assigned to them. They can save their call log and notes with the customer. In this system, users can transfer prospect information from the lead list to opportunity leads for those leads that are eligible to create an opportunity. Admin users can dynamically add, edit and delete the list of lead sources.
Possibilities
Safe entry and exit
Dashboard
مدیریت منابع سرب

منبع سرب جدید اضافه do
فهرست همه منابع سرب
مشاهده منبع سرب
منبع اصلی را به روز do
منبع سرب را حذف do

مدیریت سرب

سرنخ جدید اضافه do
فهرست همه سرنخ ها
به روز رسانی جزئیات سرنخ
مشاهده جزئیات سرنخ
اضافه کردن گزارش تماس
ویرایش گزارش تماس
مشاهده گزارش تماس
حذف گزارش تماس
اضافه کردن یادداشت
ویرایش یادداشت
مشاهده یادداشت
حذف یادداشت
حرکت سرنخ به سمت فرصت
به روز رسانی وضعیت سرنخ
حذف جزئیات سرنخ

مدیریت فرصت

افزودن فرصت جدید
فهرست همه فرصت ها
به روز رسانی جزئیات فرصت
مشاهده جزئیات فرصت
اضافه کردن گزارش تماس
ویرایش گزارش تماس
مشاهده گزارش تماس
حذف گزارش تماس
اضافه کردن یادداشت
ویرایش یادداشت
مشاهده یادداشت
حذف یادداشت
فرصت را به فرصت منتقل do
به روز رسانی وضعیت فرصت
جزئیات فرصت را حذف do

User List Management (CRUD)
Manage account / credit details
System information management
How to run
requirements
ر Local web serverlike theXAMPP/WAMPDownloadAndنصب do .
zip file کد منبع providedDownloaddo. ( The download button is below )
Installation / commissioning
کتابخانه GD را در filephp.ini خود فعالOrلغو نظر do .
کنترل پنل XAMPP/WAMP خود را open doAnd ApacheAndMySQL را راه اندازی do .
filecompressedDownload source codedoneExtraction do .
اگر از XAMPP استفاده می do ، پوشه کد منبع Extraction شده را copydoAnd it's inEnter XAMPP's "htdocs" directory . و اگر از WAMP استفاده می do ، آن را در دایرکتوری "www" قرار دهید.
PHPMyAdmin را در One reviewگر reviewdo . that's meanhttp://localhost/phpmyadmin
OneBaseNew dataIn the namelms_db ایجادdo.
fileSQL providedenter.This file namedlms_db.sqlIt is known that inside the folderThe database is located.
Lead management systemin onereviewگر reviewdo . that's meanhttp://localhost/lms/ .
Default access management
user name: admin
password: admin123
Dear user, you are offered a download.
Click on the link below to download the customer management system script in PHP/OOP source code
Files that you may need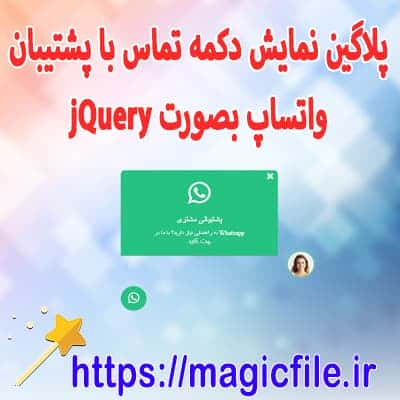 Download jQuery plugin to display WhatsApp backup contact button
Download
more details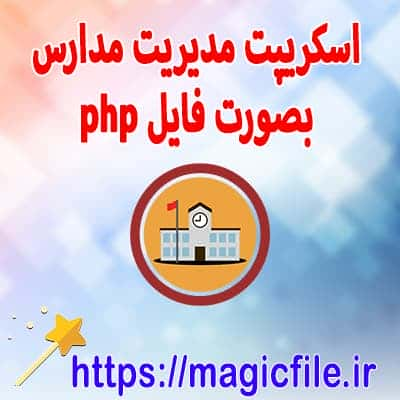 School management system script in PHP
more details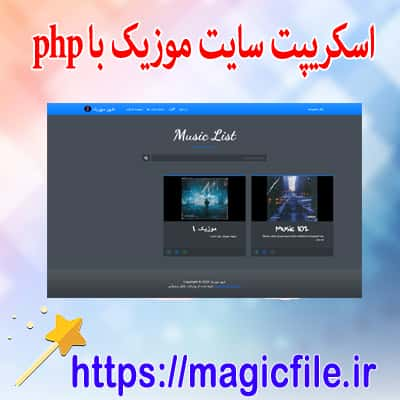 Sample music gallery site script using PHP source code and MySQL database
Download
more details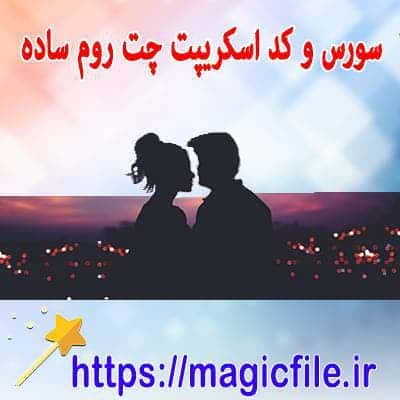 Simple chat room script code source with php html javascript css without the need for a database
Download
more details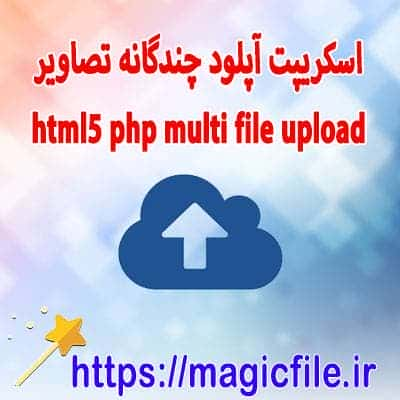 Persian script for uploading multiple files simultaneously in php PH (html5 php multi file upload master)
Download
more details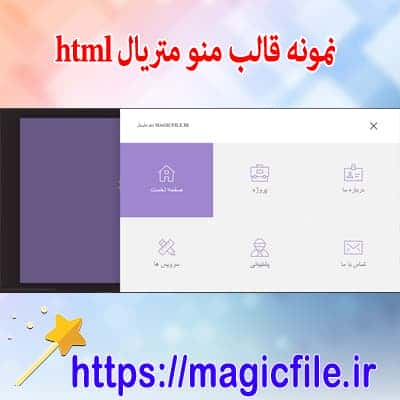 Download a sample of a bold 3D navigation template with html css javascript
Download
more details