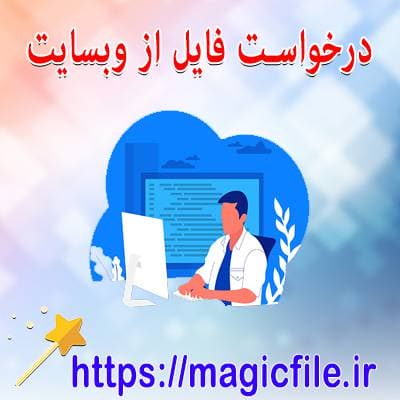 Request a file from the MagicFile site
Hello dear friends, Magical File Website If you are looking for a file that is not available on our website, there is no need to worry, you can easily send us your request so that your file can be prepared.
1. The files we can prepare for you are as follows
1.1.Any file and university and student projects
1.2. Source programming codes in any subject and any language
1.3.Design and build software in any subject and in any system
2. The files that we can do specifically are as follows and will be added over time
2.1. Creating push notifications for websites specifically
2.2.Creating and designing ready-made databases in any subject (example of poems - texts of great sayings - word list of dictionaries - list of meanings of words for all languages ​​- and ...)
2.3. Convert WordPress site database to other databases or transfer other databases to WordPress website (for example, if you have ready-made text that you want to enter the WordPress site automatically)
2.4.Making software for website author automatically - Posting a comment - Blog author automatically or via rss
2.5.Making software for Instagram social network (Faloo Khokar - Anfalo Khokar - list of followers - sending automatic posts, etc.)
2.6. Types of scripts related to websites with php system
2.7. Automatically translate text lists with Google
2.8.Translate WordPress template file as po
2.9.Google Search Engine (Extract title and link search data and any other information)
2.10. Search engine and crawler for sites to get information (SEO - data list, etc.)
2.11. Translate source and code files into Visual Basic .NET and C # languages
To send your request, you can enter the following link, then send us your request. In the shortest possible time, your request will be answered via the ticket you open.